Mexico / Planet Scuba - powered by Extra Divers
Explore the unique reefs, caves and cavers of the Riviera Maya with our professional diving service.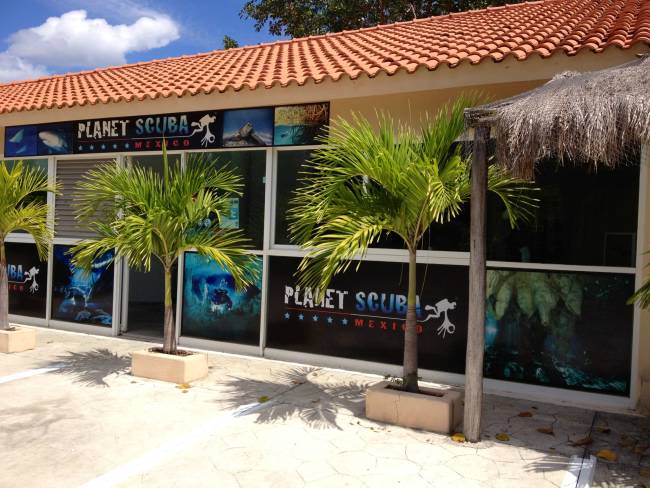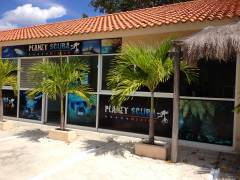 Diving/Dive spots
The dive centre in Puerto Aventuras, under German management, offers individual diving and personal care. In addition to a drying room for the equipment, there are a total of 20 rental equipment from the Cressi and Hollis brands. We also offer rental of cameras, video equipment, computers and rebreathers. 12 liter aluminum and steel tanks with DIN or INT valves are available. Nitrox, Trimix and Rebreather support and courses or cave diving courses are also offered.
Even special requests, such as sidemount diving, rebreather diving or individual cave dives for suitably trained divers are nothing unusual for Planet Scuba Mexico and are always implemented competently.
All employees of the diving center are highly motivated and multilingual professionals who enjoy safe and exciting customer service - above and below water. Planet Scuba Mexico does not offer mass processing, all diving trips take place in small groups of max. 4 divers per guide (cenotes) and 6 divers per guide (boat diving). The centre is specialized in cenote dives, for this purpose the different dive sites are offered daily with pick-up trucks. Whale shark snorkeling (mid May - mid September), boat dives, wreck tours and diving with bull sharks (December - March) are also offered. Nitrox 32 and 36 are available free of charge.
Guests staying in Puerto Aventuras are picked up for scuba diving in the morning, a pick-up from outside hotels is also available for a fee.
Team & Education
Planet Scuba is an owner-managed centre run by Markus Teupe. The centre offers both recreational and tech diving programs. According to PADI standards, diving courses are available from beginner to instructor, with technical diving according to TDI, SDI and Razor. The professional and multilingual team leaves nothing to be desired.
Facilities
Rental equipment from Cressi, Hollis & Apeks
Camera rental
12l aluminium tanks (15L available for a surcharge)
DIN & INT valves
Nitrox, Trimix & Rebreather support
Side Mount
Dive trips with trucks & boats
3 x oxygen oxygen kit
Payment on-site
Alle gängige Kreditkarten werden akzeptiert!
Highlights & Specials
The cenotes of Mexico are among the most beautiful diving spots in the world: crystal clear water with impressive visibility, mystical light shows and a magical world of stalactites and stalagmites make every dive unique.
The cenotes were created many thousands of years ago. The Mexican peninsula Yucatan is a limestone platform that is crossed by underground rivers. Changes in the sea level and the dissolution of the limestone created an incomparable cave system. Collapses of the cave ceiling formed the entrance area and the access to a mysterious underwater world. There are more than 1000 cenotes in Mexico, many of which are still unexplored or have only recently been opened to divers.
The Maya used the cenotes as wells (Dzonot = holy well). On average, they are 15 meters deep, some have a depth of more than 50 meters. The cenotes can be dived all year round - even in bad weather or rough seas. The water temperature inside the cenotes is all year round 24-25 degrees.
The cenotes are a must for every diver. Enthusiasts can spend a whole week doing cavern diving, because no two cenotes are the same. An open water certification is usually sufficient to explore the wonder world. In addition, the dives usually take place only at a depth of between five and ten meters. The view is impressive because the water is very calm.
When diving through the cenotes you can observe unique stalactites and stalagmites, discover fossils and be enchanted by the different light reflections. In many cenotes there is a halocline, a kind of layer, where fresh water and salt water mix. Together with root formations, one has the impression of floating through the bottom or an underwater cloud. In some cenotes it is also possible to surface in between in a small chamber and look at the bats and stalactites.








More about your destination
Dive Center Planet Scuba - powered by Extra Divers
Prices and Contact
Valuation
| | |
| --- | --- |
| Difficulty | |
| Current | |
| Visibility | |
| Big Fish | |
| Wrecks | |
| Snorkeling | |
| Education | |
| Service | |