Plongée Safari / MY Saman Explorer
Equipment and Cabines
Our customers are accommodated in 10 double cabins on upper- and lowerdeck, and 1 master cabin.
All cabins are equipped with a silent air-conditioning system, reading lamps and charging stations. Of course each cabin has its own bathroom (even with rainforest shower head!). The cabins have 2 single beds (1m x 2m each).
Upperdeck cabins got a window with a great view of the sea. The master cabin (20sqm) is located on the main deck, has a large double bed, a TV as well as desk and mini bar.
Restauration
À bord, tout est inclus : le café, le thé et l'eau. Les glaçons, le jus et la machine à soda sont aussi à disposition gratuitement. Le dernier soir du voyage se déroulera dans le Marriott Beach Hotel de Mirbat, la demipension dans l'hôtel de luxe est aussi incluse. Notez S'il vous plaît, qu'il n'y a aucun alcool disponible à bord.Il est cependant possible d'acheter de l'alcool à l'aéroport de Mascate, après le contrôle des passeports et de l'apporter à bord. À l'aéroport de Salalah, il est impossible d'acheter de l'alcool!
Opérations de plongée
The trips always take place from Saturday to Saturday. 6 nights are spent on board, the last night the guests spend in a hotel (if the day after a new trip starts). Saturday in the early evening (optional Sunday morning) the ship starts along the coast towards Hallaniyts. There are 3-4 dives daily (Sunday-Thursday), including night dives. Disembarkation is on Friday afternoon in the harbor, where in the morning a last dive is made. From here the guests are brought to the hotel. On Saturday morning we head back to the airport for a connecting stay or return flight to Germany.

Important:
The Oman is still a destination of expeditionary character and is a destination for divers with a thirst for adventure and a lot of pioneering spirit.
It is certain that the islands have a habitat population of humpback whales. Look out for this huge giants - with luck you will find it, especially in the south. Untouched reefs, huge groupers, big dolphin schools, tons of moray eels ... let yourself be surprised! And maybe you even will find a new wreck, because supposedly here ships from the fleet of Vasco da Gama have sunk...
In any case, you will be impressed by the unbelievable amount of fish, as well as the fact that in Oman under water everything is a little bigger than anywhere else!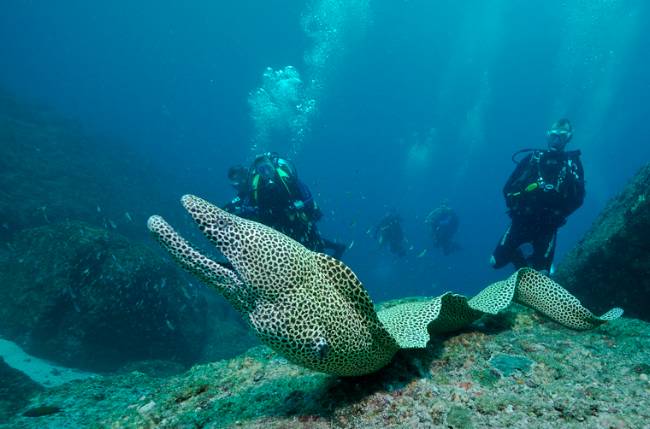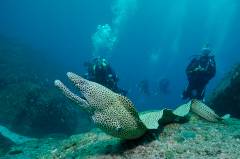 Sécurité
Premiers secours: trousse d'urgence, oxygène, défibrillateur
Sécurité: extincteurs, gilets de sauvetage, radeaux de sauvetage
Navigation: radar, GPS, boussole, radio, jauge de profondeur
Téléphone satellite
Technical Data
• Longueur: 34 m
• Largeur: 9 m
• Moteur: 2 x 720 ch Daewoo chacun
• Electricité : 2 generators, 220 V
• Compresseurs: 2 + Nitrox
• Bouteilles de 12l en aluminium et 15l en acier
• DIN et INT adapteurs
• Langues parlées : Anglais et Allemands.
• 2 canots pneumatiques (5.5 m) chacun 40 ch
• Location d'équipements disponible (paiement sur place) - doit être réservé à l'avance.
• Nitrox disponible (60 US$ par personne et par semaine)
Règlement sur place
Les frais supplémentaires doivent être payé sur place/à bord to be paid on site/on board (Paiement liquide seulement en OMR, USD ou EUR):
Visa pour Oman 20 OMR (approx. 50 EUR) Permis de plongée de 4 OMR (par jour/par personne), 8 OMR pour les îles Daymaniyat Nitrox 60 USD par semaine.
Pour toutes les croisières à partir d'Août 2018, frais de port & surcharge pour l'essence:
100 USD pour les croisières de 7 jours/ 130 USD pour les croisières plus longues Equipement disponible sur réservation pour un coût additionnel.






More about your destination

Prix et Contact
Évaluation
| | |
| --- | --- |
| Prix/performance | |
| Chambre | |
| Culinaire | |
| Service | |
| Récupération | |
Tipps, Trends & Informations